Bulletin B125.1 - Team Alberta U19 Women's Field Team Head Coaches Named
---
---
The Alberta Lacrosse Association (ALA) is thrilled to announce the assignments of Lesley Hawke and Sarah Lehman as Head Coaches for the Team Alberta U19 Women's Field Lacrosse team.
Meet Lesley Hawke
Lesley's list of accolades over her playing and coaching career have been spectacular! Her technical skill-set is perhaps only surpassed by her ability to connect with players in order to get the most out of each athlete both as individuals and as a team. Her success as a player includes a national championship and multiple individual accolades, but her success as a coach is perhaps even more impressive which includes a coach of the year honour in the highly competitive Ontario Lacrosse Association.
With an extremely successful coaching career across two provinces, Ontario and Alberta, Lesley has always maintained a passion for athlete development and lacrosse development in general. This has led Lesley to past roles as the Women's Field Lacrosse Sector Chair for the ALA and the VP of Women's Field Lacrosse for the AFLA. Here are just a few of the accomplishments of our new U19 WF Head Coach:
Ontario Lacrosse Association Coach of the Year - U15 (2001-2004) (coach)
Gold Medalist - Provincial Championships - U15 (2001-2004) (coach)
U19 National Team Program Evaluator
Gold Medalist - National Championships (player)
Bronze Medalist - Federation of International Lacrosse (player)
3x OUA Leading Scorer - West Division (player)
3x OUA All-Star Team (player)
Calgary Field Lacrosse Head Coach/Finesse Lacrosse (U6-Senior) (2006-2015)
Meet Sarah Lehman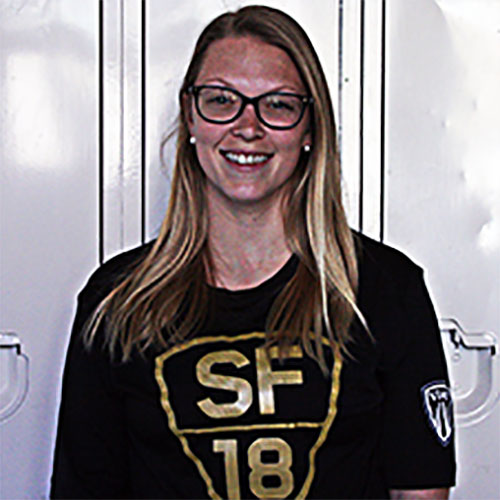 Sarah grew up watching her Dad play lacrosse for the Edmonton Outlaws and fell in love with the game. She began playing Minor lacrosse for the St Albert Rams when she was 10 years old. In 2007 her family moved to Ontario where she played Box Lacrosse for the Whitby Warriors and Field Lacrosse for the Oshawa Lady Blue Knights. With these 2 clubs, Sarah won three provincial championships.
In 2010 Sarah began her freshman year at Limestone College in Gaffney, South Carolina. During her 4 seasons at Limestone she was a four-time All-Conference player, Conference MVP, Conference Tournament MVP, three-time All-American, and captained the team her senior year. She still ranks sixth all time in D2 NCAA assists and 13th in points. Limestone won four Conference Championships and played in the National Tournament all four years, playing in two National Championship title games.
In 2011 Sarah captained the U19 Canadian National team that captured the Bronze medal in Hannover, Germany.
After graduating from Limestone College in 2014 with a major in Strength and Conditioning, Sarah moved to Salisbury, England where she coached lacrosse at the Godolphin School. During her year in England she also coached the U15 Wilts and Dorset County team, and the Senior South West Regional Team.
In the spring of 2015 Sarah coached the Wales U19 WF team at the Home Internationals Tournament hosted in Edinburgh, Scotland. In the summer of 2015 Sarah was the assistant coach of the U19 Wales National Team that competed in the World Championships held in Edinburgh, Scotland. In the fall of 2015, Sarah began coaching at Vimy Ridge Academy.
Sarah has coached at the provincial level, winning Bronze (2017) and Silver (2018) with Team Alberta at Nationals. She was coaching Team Alberta once again in 2020, until the shutdown forced the cancellation of the tournament so she is excited to back at it and part of the Team Alberta leadership group.
Lesley and Sarah will work together as co-Head Coaches and as we ramp up the program for the National Championship this August, information for aspiring Team Alberta players will be available soon.
Congratulations and welcome to Team Alberta, Lesley and Sarah!